iX21 smart pillow, a real sleep coach
The innovative ADVANSA iX21 smartpillow not only offers personalised sleep analysis, it also provides customised advice and individual coaching for improvement through a Smartphone software application, designed by sleep laboratory experts.
The sleep history of the users over weeks and months will be available and analysed in order for them to receive precise, personalised and increasingly relevant coaching tailored to their individual sleep patterns.
Simplicity, security, efficiency... and comfort !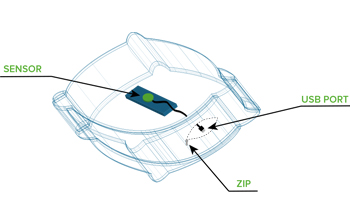 iX21 smartpillow ... is used like any other pillow,nothing is simpler !
No additional hardware items in your bed or bedroom. You can even leave your Smartphone in Flight Mode.
To charge the battery, simply open the zip on the side of the pillow to connect a phone charger to the USB socket inside the pillow. The battery life of the iX21 smartpillow is about one week. The battery level is readable on the software app. that will trigger an alert if the charge level becomes too low.
During the day, a prolonged absence of movement will automatically put the sensor into power saving mode.